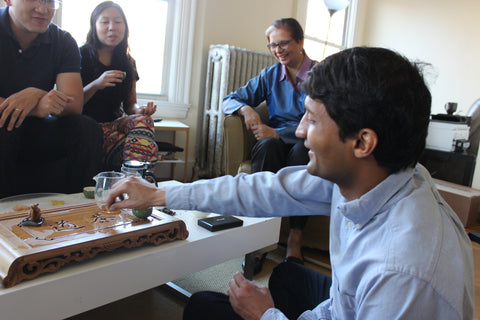 Texas Exes Tea Tasting
Come join us for a tea tasting! You will have the opportunity to taste and learn about each of the six kinds of tea while hearing stories of adventures and misadventures in rural China. Most importantly, you'll make new friends as we collectively learn from each other over the course of an afternoon. We've held 100+ tastings and they fill up very quickly, so book a space (or more, if you would like to bring friends) while they are still available!
Tea house locations are ever-changing. Directions will be e-mailed to you once you sign up.
What some of our tasters have said:
It was such an amazing experience! We had a fantastic time learning and tasting all the different varieties of tea.
– Tim
What an awesome afternoon and what great company!
– Perrin
I have never had a tea that tasted like this.
– David
This is the best tea I have had in my life. 
– Natalie
Everybody keeps raving about the tastings, can I come to the next one?
– Nadia